Home > Sports betting > BetMGM ups the ante for the 2023-24 NFL season
One week on, the 2023-24 National Football League (NFL) season is in the books and Matt Prevost, BetMGM's chief revenue officer says BetMGM is looking to make it a big year.

During the offseason, BetMGM made numerous changes to its sports betting experience, fuelled by the popularity of the NFL and a general aim to consistently improve its offering.
"The BetMGM app is taking a giant leap forward this season with new capabilities and streamlined user experience," says Prevost. "One new feature is Same Game Parlay+."
"We have seen incredible activity and demand from our customers in Same Game Parlays. So the ability to add new functionality to this popular feature and now offer the ability to combine several Same Game Parlays for exponentially higher odds is something we expect fans to really take advantage of this season."
BetMGM is also bringing local flair to its sportsbook in legal markets. The sportsbook is offering "exclusive odds boosts for our team partners, so fans in their respective hometown states can access 50% live odds boosts while their team is playing," Prevost notes.
Big changes, big impact
BetMGM's NFL partners include the Baltimore Ravens, Pittsburgh Steelers, Las Vegas Raiders and New York Jets.
Zoom out, and you'll see BetMGM has made high-level changes to the overall app experience too. Bettors can now access the sportsbook from the same app even if they travel to a different legal state.
"It makes for a simplified and improved experience for users," says Prevost.
Ahead of the 2023 NFL kickoff, BetMGM launched a free $100,000 Survivor Pool to drive new sign-ups and ongoing user engagement throughout the season.
"We see a great mass of new users join BetMGM at the beginning of the [NFL] season for a variety of reasons, including the new Survivor Pool," says Prevost.
"The Survivor Pool creates a fun and free way for our customers to engage with BetMGM throughout the week."
The Survivor Pool has players pick one team to win each week. If the team wins, that player survives to select a team in the next week. If not, that player is out for the season. The last ones standing split the prize.
The ambassador effect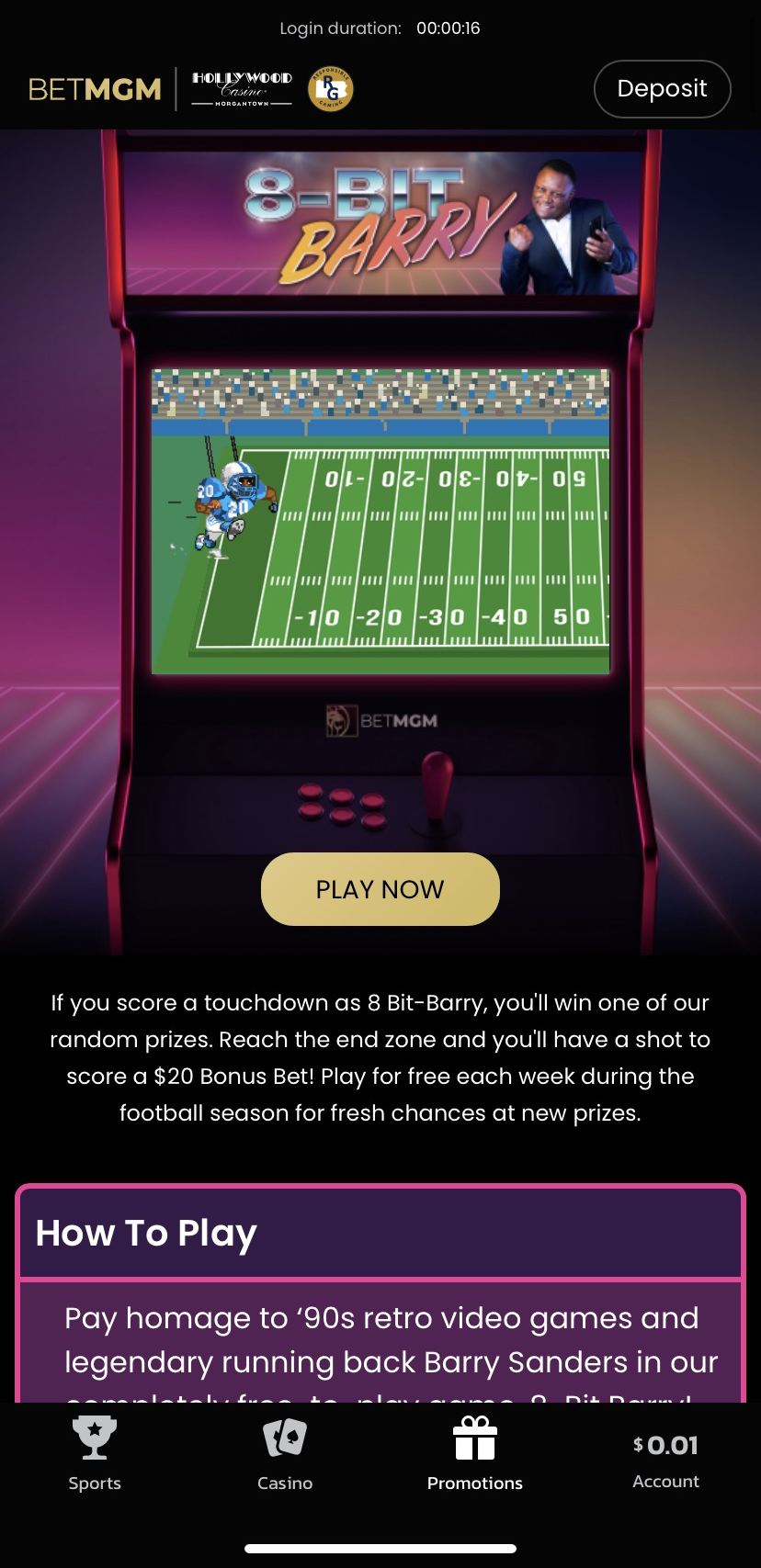 Alongside the Survivor Pool, BetMGM launched 8-Bit Barry, making full use of its ambassador partnership with former Detroit Lions running back Barry Sanders.
"It's a great feature celebrating nostalgic video games, providing customers an interactive way to win bonuses, boosts, and more. It doesn't need to be game day for our fans to play and win on the BetMGM app," Prevost says.
BetMGM has big-name ambassadors under its umbrella – as well as Barry Sanders, Jamie Foxx is also an ambassador.
"BetMGM exists at the intersection of sports and entertainment," Prevost says. "So having marquee names like Foxx and Sanders tell the BetMGM story perfectly showcases how we bring our own exciting style as the premier sports betting experience."
"Barry Sanders in particular elevates the free-to-play 8-Bit Barry from a random game into this unique experience having one of the most legendary running backs in the game at your fingertips. We're always thinking of new ways to innovate with our ambassadors to entertain our fans throughout the year."
Driving the product home
Football fans may see plenty of drives on the field, but the sport drives much more off the turf.
"Football is definitely the chief driver of product innovation at BetMGM," says Prevost. "Every year, football shatters the previous engagement records. It is vital that we continue to evolve so that we are offering the industry-leading sports betting platform."
"This year, we have taken bigger steps than ever before in creating the elite mobile sports wager product. You will see many of these new updates – such as Same Game Parlay+ – available for other sports as the year progresses."
Source: Read Full Article